Woodland Treasures Extra Wide - Sample Chips
Sale price

$3.00

Regular price
Product Description:
Sample Size: 9.15" W X 7.55" L
VIEW THIS COLLECTION for more photos and detailed information about these products - PLEASE NOTE THAT THIS COLLECTION IS BEING DISCONTINUED ONCE INVENTORY IS GONE
Tongue & Groove engineered profile for easy installation
A jaw dropping 9.15" wide and 70% random lengths from 12" up to 8' long that will REALLY make any room look large
5/8" overall thickness - 4mm thick decorative, white oak, plain sawn veneer on a 9 Ply Baltic Birch Core
Character grade: #1 common to rustic
| | |
| --- | --- |
| Color | Denali Extra Wide White Oak |
| SKU | FWTDE5-8WO391T1SAMPLE |
| Sample Size | 9.15" x 7.55" |
| Top Layer | 4mm |
| Number of Ply | 9 Ply Birch Core |
| Construction | 10 Ply Total (Multi-Ply Core) |
| Profile | Tongue & Groove |
| Wood Finish Texture | Wire Brushed |
| Resistance Type | Scratch, Stain, Water, Fade, UV, Warp, Slip |
| Fire Resistant | Class C-ASTM E-84 |
Share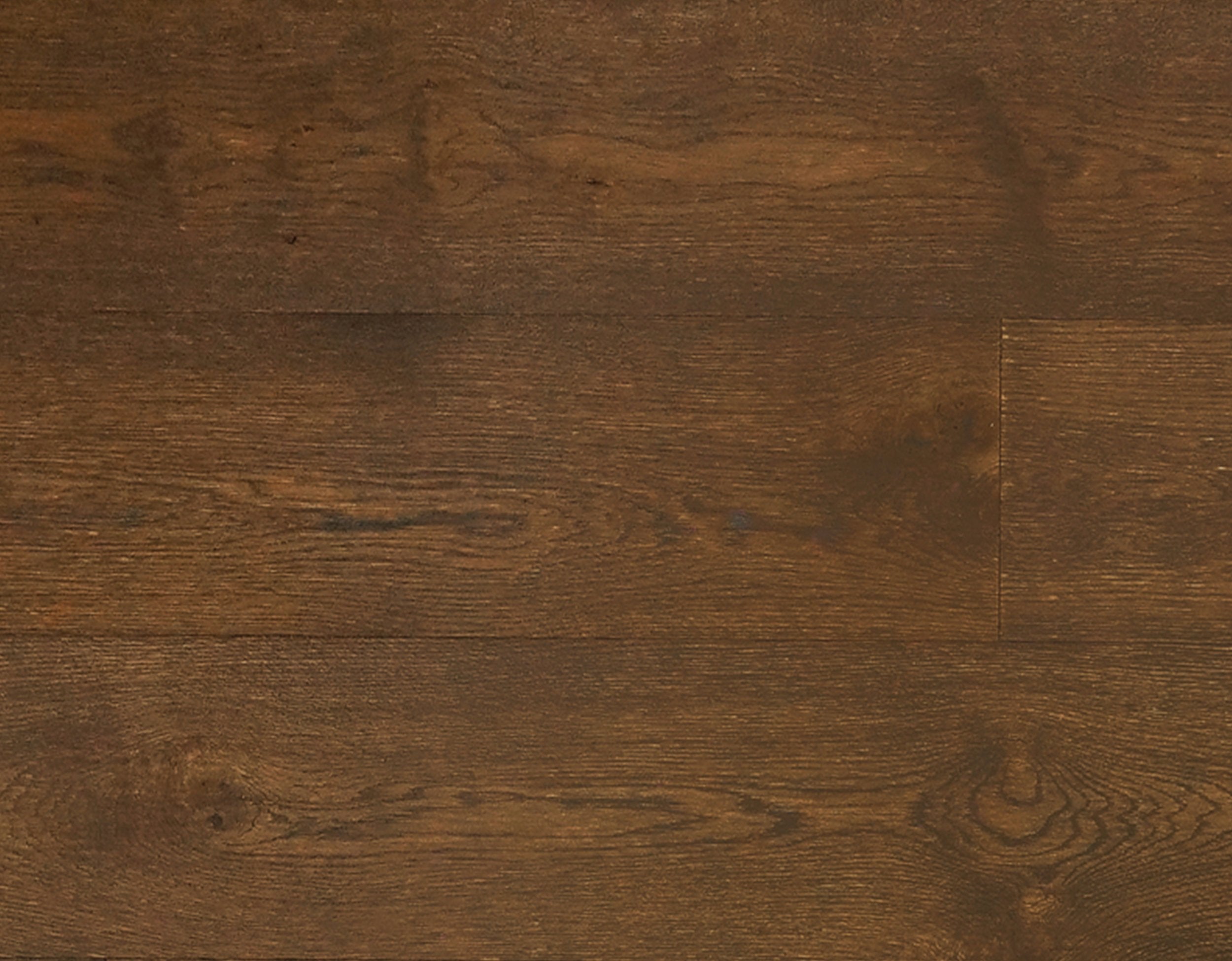 Frequently Bought Together
FAQs
Technical Questions & Answers
What Makes From The Forest Products So Innovative?
The biggest problems with wood flooring is that it can be destroyed too easily and it takes A LOT of wood to make a floor.  From The Forest has addressed these issues with our HDF Core products. By using 100% recycled hardwood to make our 2x more dent resistant HDF cores, and when coupled with our superior Wearmax XT finish the necessary size of the wood veneer is minimal. These innovations ensure that our customers will pay less for a more durable, environmentally friendly floor all at a lesser cost.
What is HDF?
Not to be confused with MDF or Medium Density Fiber which is usually found in laminates, HDF stands for High-Density Fiber which we use as the core material for many of our products. The HDF we use is recycled from excess hardwood veneers used on our flooring, we then mix it with a water-resistant resin and press it. This engineered wood product can be almost 2x harder than other wood flooring products and also can be up to 5x more resistant to moisture when compared to a laminate or other wood products in the industry.
See All Questions & Answers
Is all HDF the same?

No, HDF can vary in quality and performance depending on what it's made out of and how it's engineered. From The Forest, LLC has always used the highest quality HDF which comes from hardwood trees such as Hickory and Oak, instead of softwood trees such as Pine and Poplar which makes a big difference as to how the product will perform over time.
What is Wearmax XT?

 Wearmax XT is our ceramic based aluminum oxide finish that we use on almost all of our products. Our chemists have developed a way to make our aluminum oxide particles smaller so that we can add more per square inch of the boards which makes it more resistant to scratching. This is perfect for homeowners with an active family life.
What is the difference between laminate, engineered and solid wood flooring?

Laminate: pressed particle or medium density fiber (MDF) board with a photograph of wood applied to the surface. Laminate flooring contains NO actual wood. It can be installed almost anywhere, using a click together or glue installation.
Solid: Generally a 3/4" thick solid block of wood. It can be installed on or above grade by a staple or nail down application.
Engineered: Engineered floors are better suited for areas where environmental temperature and relative humidity cannot be held to a consistent level. It can be installed above, on, or below grade using glue, nail, and staple or floating applications
Why do some of your products have a thinner veneer of wood on the top?

Contrary to popular opinion, by using a thinner veneer of wood we can minimize the size of indentations that will inevitably happen during the life of the floor. From The Forest believes that having a floor that is more durable and that lasts longer is better than having a floor that will require numerous sanding's because it can damage easily. This is also why our products that have the thinnest layer of wood and thicker engineered HDF cores carry the best warranties because of their superior performance.
What is the average length of the boards in each carton and how much difference is there?

Depending on the product, up to 65% of the carton will be full-length boards, the remainder will be random lengths starting at 12"-15" long. Also, most cartons will have up to two "row starter" and/or "end boards" for the installer's convenience.
Do your products have low chemical emissions?

Our products have tested to be Phase 2 Carb Compliant for lowest possible air emissions and there are no added formaldehyde to our products. All of our raw materials are sourced from managed forests in North America.
What is the fire and smoke rating in a commercial setting?

The fire and smoke ratings received below were provided to us from a customer who arranged for the testing for a commercial application.

Fire rating ASTM E648 :classified as Class I which means that the average critical radiant flux (W/cm2). From the Forest samples came in at 0.58 which is Class I.

For smoke (ASTM E662) FTF samples need to be less than 450 for Dm Corrected. The FTF  samples average 318 & 343.
Is the warranty on my floor transferable?

No. The warranty applies only to the original purchaser of the floor. As the purchaser, you must register the floor and keep a record of your purchase.
Installation Questions & Answers
What is the difference between Hydronic Radiant Heat and Electric Radiant Heat? Is From The Forest Flooring approved to be installed over Radiant Heat?

 Our manufacturer's product warranty covers "wear thru of the finish and the construction of the product"  only.  We do not cover anything with the installation but we do recommend installation techniques and what the relative humidity and subfloor conditions need to be for a successful install.  We also provide guidance for radiant heat in the installation instructions. 

Hydronic heat: is water based heat.  It is always a new system in a home, has floor sensors, has even heat and does not get too hot. For that reason, we know our HDF core flooring will not be negatively affected by hydronic in-floor heat.

Electric heat:   The heat is from looping wire or coils. Sometimes it is on the concrete subfloor or the pad that is right under the wood floor. Depending on the age and quality of the electric radiant heat there can be "hot spots" that occur in areas and the heat is often tough to regulate.   For that reason as a national manufacturer, we cannot recommend our flooring be put over electric heat because of all the variables. That does not mean that electric radiant heat will be bad. Many of the newer systems are very good ... however, the homeowner or dealer needs to put the responsibility on the supplier of the radiant heat. That manufacturer needs to certify that their system is approved for use under engineered wood flooring.  If any issues occur they would be the responsible party.
What is the acclimation period prior to installing my floor?

Flooring should be allowed to acclimate for a minimum of 24 hours or until conditions are at normal living conditions and meet minimum installation requirements for moisture content. Relative humidity should be between 35-55% at all times during and after installation. 
If I want to staple down part of the wood and float other parts, do I have to order different cartons?

You can use both a staple and a floating installation as long as the different installation methods are in separate rooms and divided by a t-mold or some other transition piece that will allow the floating side to float without restriction. Also, they need to be the same depth (e.g. 3/8" or 1/2". Be sure to follow installation instructions which will be packed with the flooring.
How many times can this floor be sanded and refinished?

All of our products that have a 2mm veneer (or top layer of wood) can be sanded down a maximum of 1 time, but our 1mm products can NOT be sanded. We've engineered our 1mm products (Vineyard) to be2x more dent resistantthan average hardwood so that sanding should never be necessary. If you do experience damage over the years, you can screen and recoat (buff and coat) as many times as desired.
 Can I install a hardwood floor in a full bathroom?

Installing a wood floor in a full bathroom is not recommended due to the high moisture associated with these areas which usually increase the potential for problems to develop.
Can I install an engineered floor over a concrete subfloor?

The benefit of an engineered floor is that in most cases it can be installed directly over a concrete subfloor that is clean, flat, dry and structurally sound. Click on theInstallation/Warrantylink for more detailed installation guidelines.
 Can I lay a mat or a rug on my flooring?

All mats or rugs should be cleaned and/or replaced on a regular basis. They should also be moved occasionally to allow natural color changes caused by light to occur evenly in all areas. Never use latex or rubber backed mats; they will permanently stain the floor.
Why does my flooring look cloudy? 

Hardwood flooring can become dull or cloudy looking over the years if you use a cleaner that has allowed a build-up of wax or other cleaning agents on it. If there is a build up from the cleaning products, full strength acetone can often do the trick. You would need to use rubber gloves, a clean, lint-free cloth, and be in a well-ventilated room. 
 How do I clean a stain off my hardwood floor?

We only recommend our Hardwood Flooring Cleaner for stains and sustainability. If the Hardwood Cleaner does not remove a stain, we recommend full strength acetone to the spot. When applying the full strength acetone remember to use rubber gloves, a clean, lint-free cloth and be in a well-ventilated room. 
Please click HERE for Wallplank FAQ.
Free Shipping

Complimentary on all orders

Secure checkout

For all major credit/debit cards

Secure payment

Your payment processed securely

Customer service

A question? Please contact us