Why Engineered Hardwood is better than solid
SUSTAINABLE.
STRONG & DURABLE.
LONG LASTING.
The environmental footprint of engineered hardwood is 5x LESS than solid hardwood.
SHOP ENGINEERED HARDWOOD >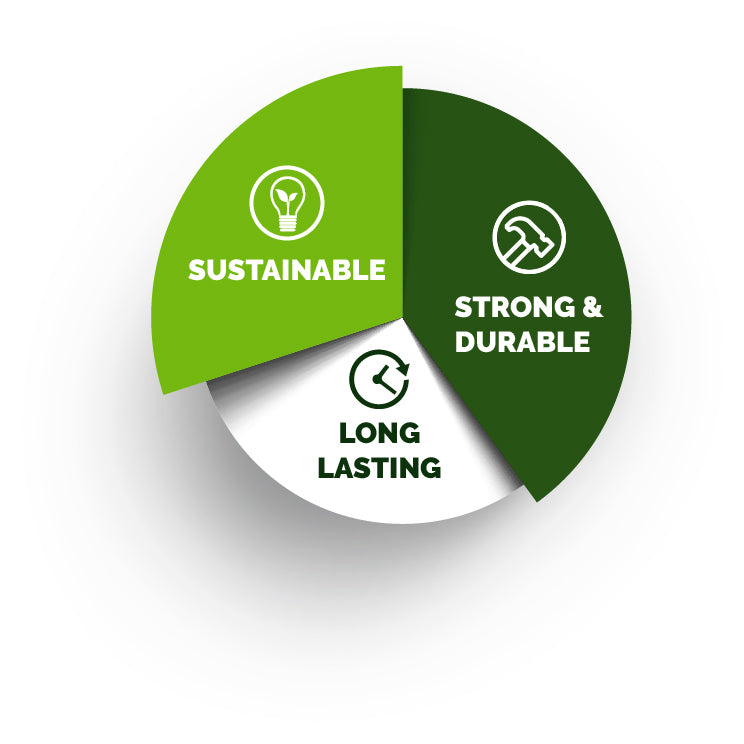 SUSTAINABLE. STRONG & DURABLE. LONG LASTING.
At From The Forest, we want to ensure you get the most out of your wood flooring product. That's why we offer high-quality engineered hardwood flooring. Our core technology creates stable wood planks that can withstand the test of time, while the gorgeous veneer preserves all the natural beauty of real wood. Delve into engineered hardwood vs. solid hardwood, and discover why engineered wood flooring takes the crown.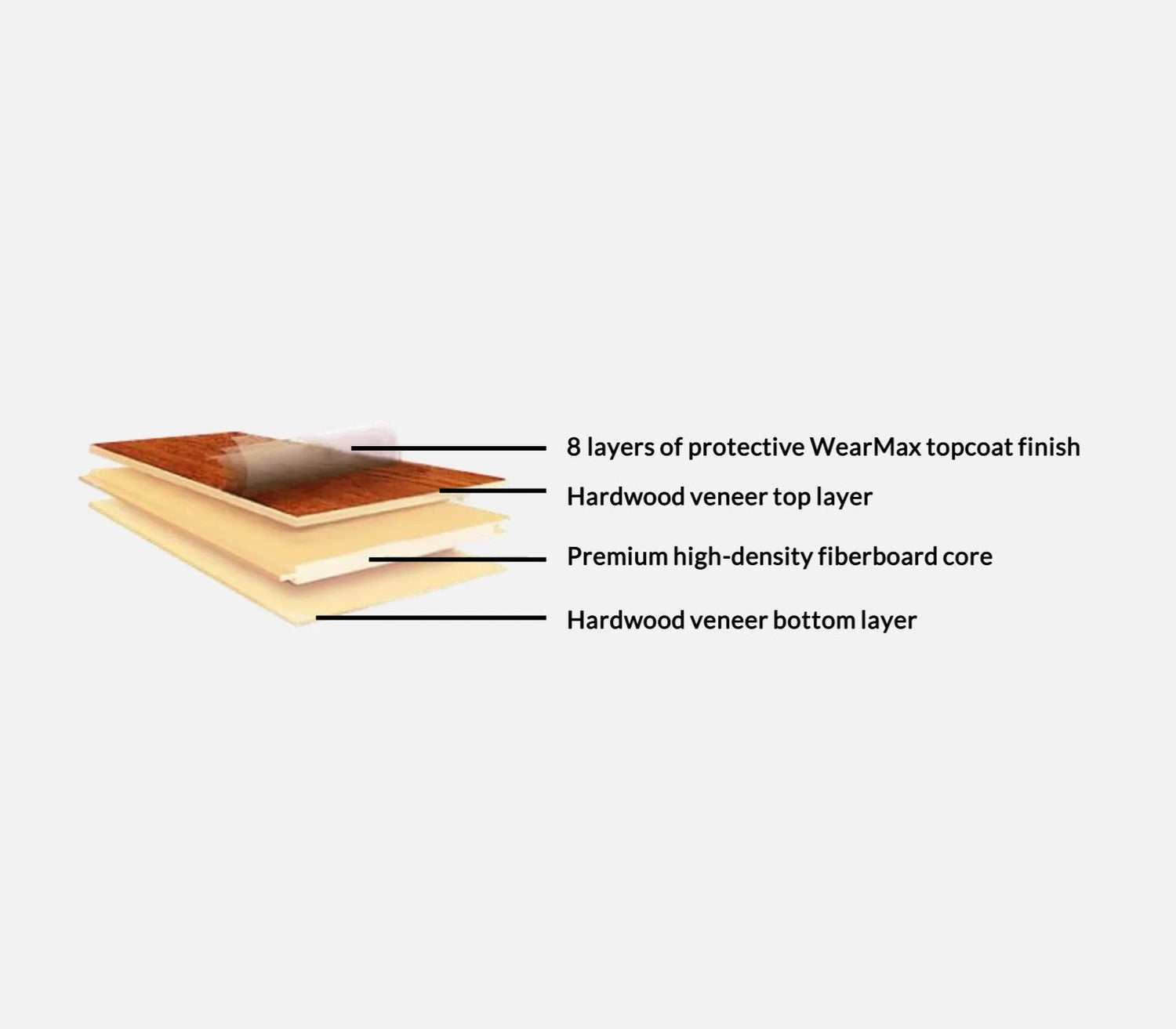 What Sets Engineered Hardwood Apart
From The Forest® prides itself on prioritizing environmental health—a responsibility that's possible because of how eco-friendly engineered hardwood is. Engineered hardwood uses plywood or recycled wood materials in its core, which vastly reduces the amount of wood we need to source to make each plank of flooring. As a result, engineered hardwood has a much smaller environmental footprint, making it easier to ethically source.

Don't mistake the lack of solid wood for a lack of strength, though. Our Multi-Ply or 360° Core technology creates durable, dependable wood planks that resist warping, cracking, and other damage better than solid hardwood.

Finally, we put immense care into the wood veneer of each flooring plank. In addition to showing off hardwood's natural beauty, each veneer has a premium finish that resists scratches, sun damage, and other general wear.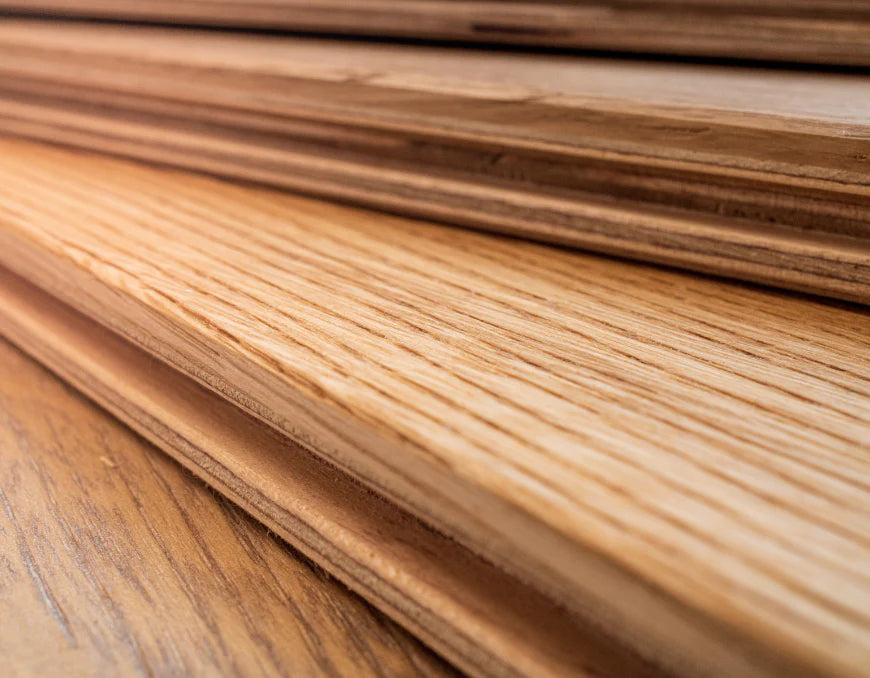 See the Difference at From The Forest®
When it comes to engineered hardwood vs. solid hardwood, engineered hardwood flooring delivers all the beauty and durability of solid hardwood—and then some. With a smaller environmental footprint, better moisture resistance, and endless options for species, grade, and color, you can easily see why engineered hardwood excels. Check out the difference between engineered hardwood vs. solid hardwood for yourself at From The Forest today. Shop our products or talk to one of our experts to see how From The Forest® can help deliver the home design of your dreams.
Compare Engineered Hardwood VS Solid Wood
| Sustainability | Engineered Wood | Solid Wood |
| --- | --- | --- |
| 1 tree used for Engineered Wood, 5 trees to produce the same amount of Solid Wood | √ | |
| For every 1 tree used to produce Engineered Wood, 3 more trees are planted | √ | |
| UV cured topcoat has zero VOC's and an environmental footprint that is 5 times smaller than finished used on Solid Wood | √ | |
| Strength & Durability | Engineered Wood | Solid Wood |
| --- | --- | --- |
| No Warping | √ | |
| Stability (no expansion or contraction) | √ | |
| No Cupping | √ | |
| No Twisting | √ | |
| Versatility | √ | |
| Scuff Resistant | √ | |
| Wear Resistant | √ | |
| Dent Resistant | √ | |
| Longevity | Engineered Wood | Solid Wood |
| --- | --- | --- |
| Best Finish in the market WEARMAX®, no rescreen or refinish for a lifetime | √ | |
| Multi-Ply Core construction to create strength and durability | √ | |
| Can be Rescreened | √ | √ |
| Can be Refinished | √ | √ |
| Installation | Engineered Wood | Solid Wood |
| --- | --- | --- |
| Easy Installation | √ | |
| Fast Installation | √ | |
| Cost Effective | √ | |
| No Mess | √ | |
| Efficient | √ | |
| Less tools required | √ | |
| Install below grade Level | √ | |
| Install over tile | √ | |
| Install over concrete | √ | |