Naturals Collection
Carton: 29.25 sq.ft. (51 lbs)
Dimensions: 1/2" x 7.5" x 71.5" (up to 40% random lengths, cartons may contain all full length boards)
Finish: WearMax DWR (2X More Water Resistant)
Construction: 3mm top and bottom face plain sawn veneer on a 7 Ply Baltic Birch Core
Edge Profile: Tongue and Groove
Edge Style: 30 degree bevel on all edges
Wood Species: Red Oak, Hickory, and Maple
Hardness Rating (Dent Resistance): varies by species
Character Grade: varies by species
Surface Texture: Smooth
Veneer Type: Plain Sawn Decor Cut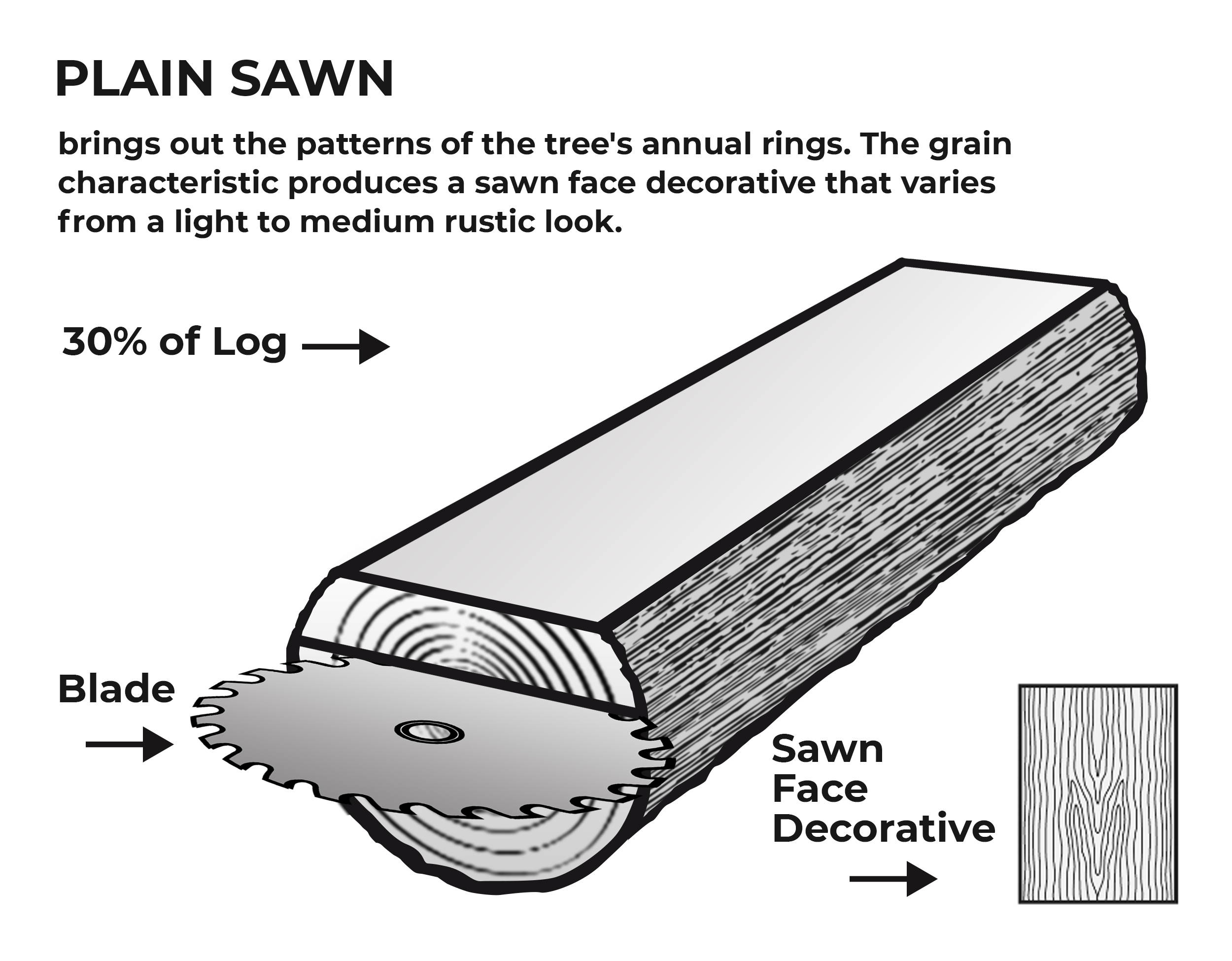 ---
Wood is a product of nature. Variations of color, grain, texture, and character are natural occurrences. Small areas of open, unfilled mineral marks and knots are a natural part of the wood grade and are not product defects.
The Industries Best Finish (2X MORE WATER & WEAR RESISTANT)
Multiply Core Construction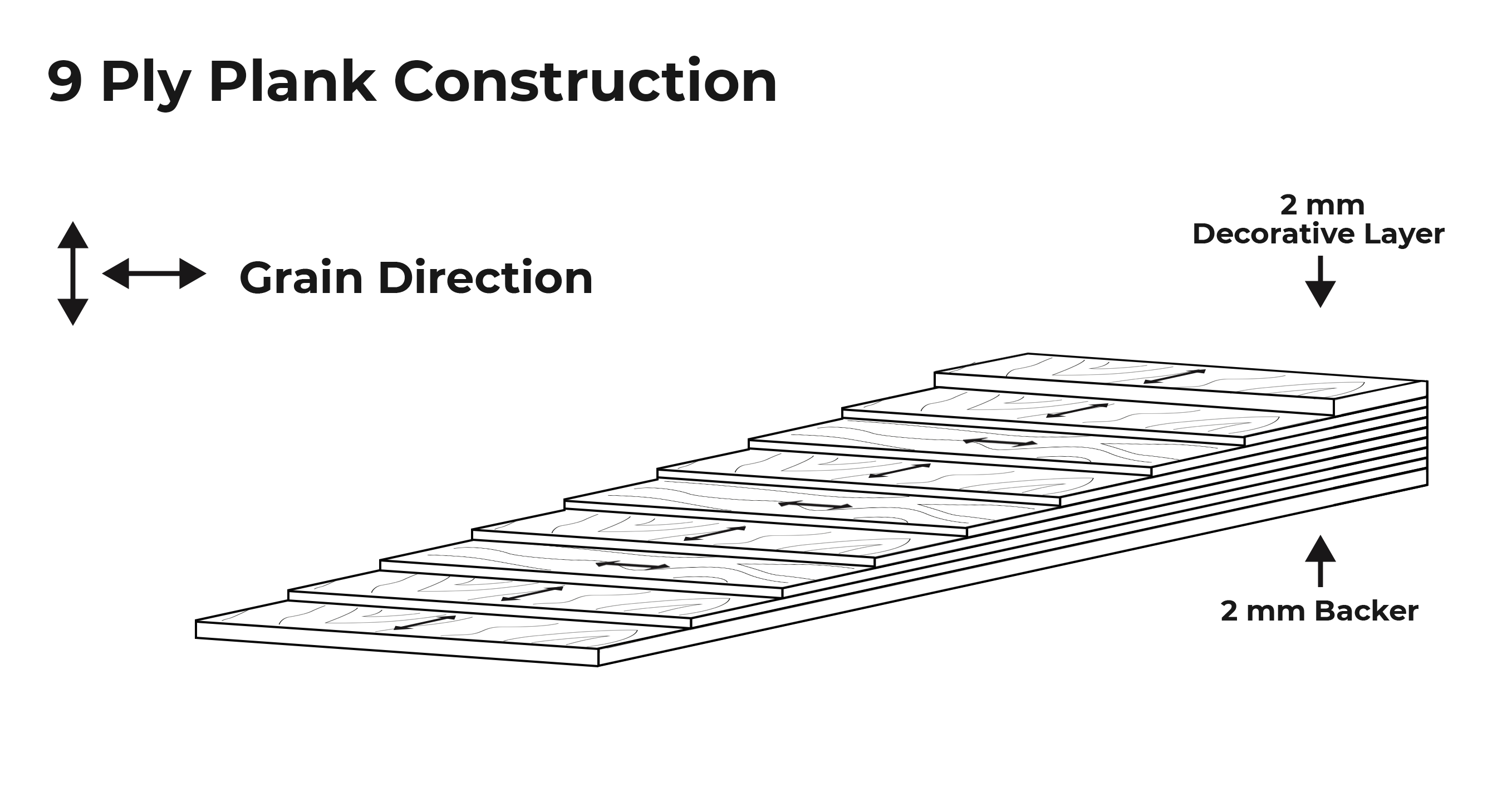 ---
When multiple pieces of plywood are layered on top of each other (with grains going different directions) it creates an engineered balance. This balance prevents expansion, contraction, bowing, twisting and warping. This is the reason why engineered flooring can be installed below grade level's (in basements).

The more ply's that are added, the more stable the plank is going to be.

The 2mm decorative layer on this construction provides the ability to refinish the flooring up to 2 times. The flooring can be professionally re-screened an unlimited amount of times allowing it to last generations.
Installation Profile Details
---
Tongue and Groove Profile
Our tongue and groove profile is truly innovative so you can be confident that once your flooring is installed, it is going to last for generations. Our highly experienced team of flooring manufacturing engineers have developed a T&G construction that makes installation easy to accomplish whether you want to glue, float, nail or staple the floor in place.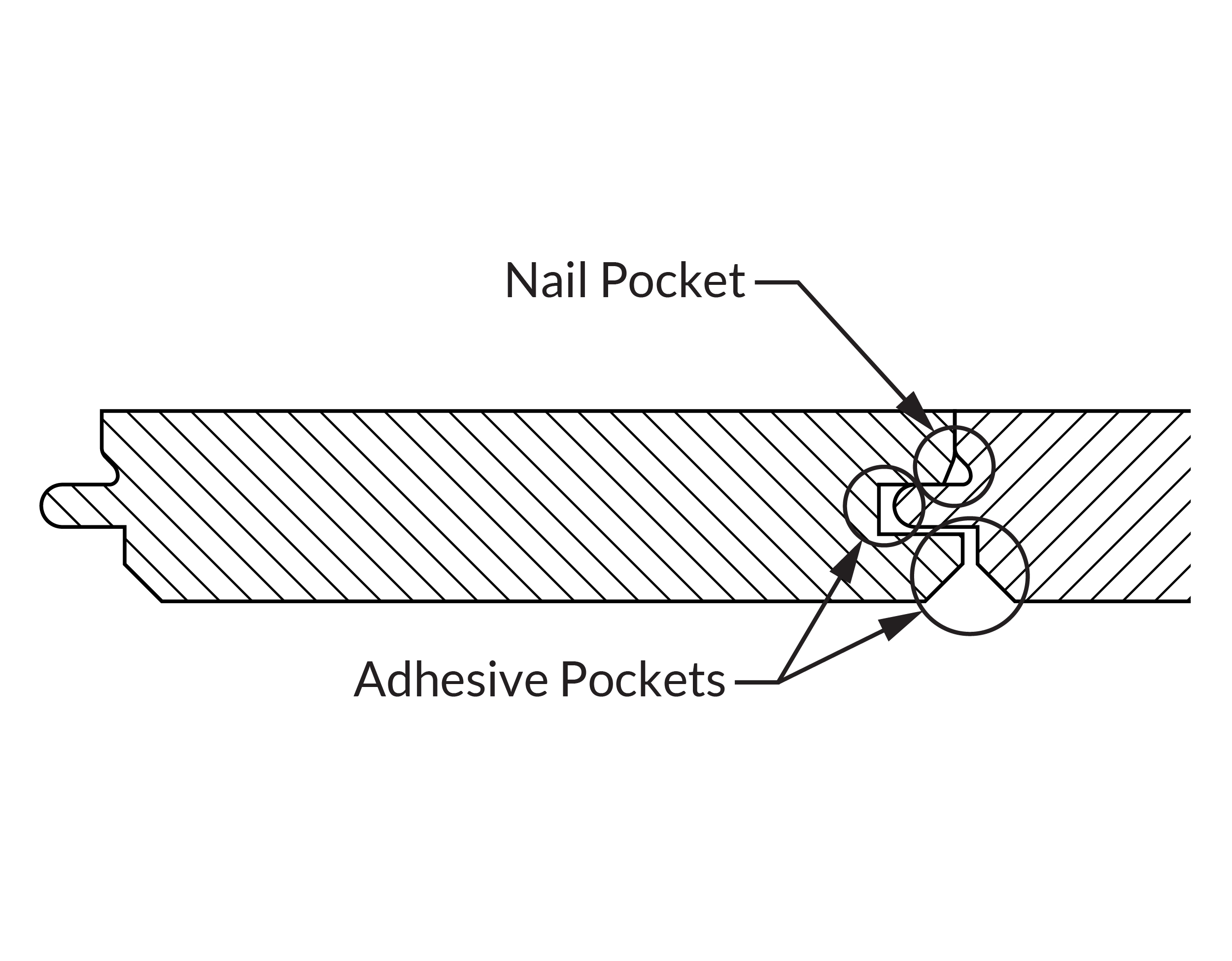 ---
The nail pocket allows space for a staple or nail to be used without interfering with the way each plank interlocks with each other.

Our innovative adhesive pockets allow more glue to be applied between the tongue and groove which creates a stronger bond to the planks and to the sub floor.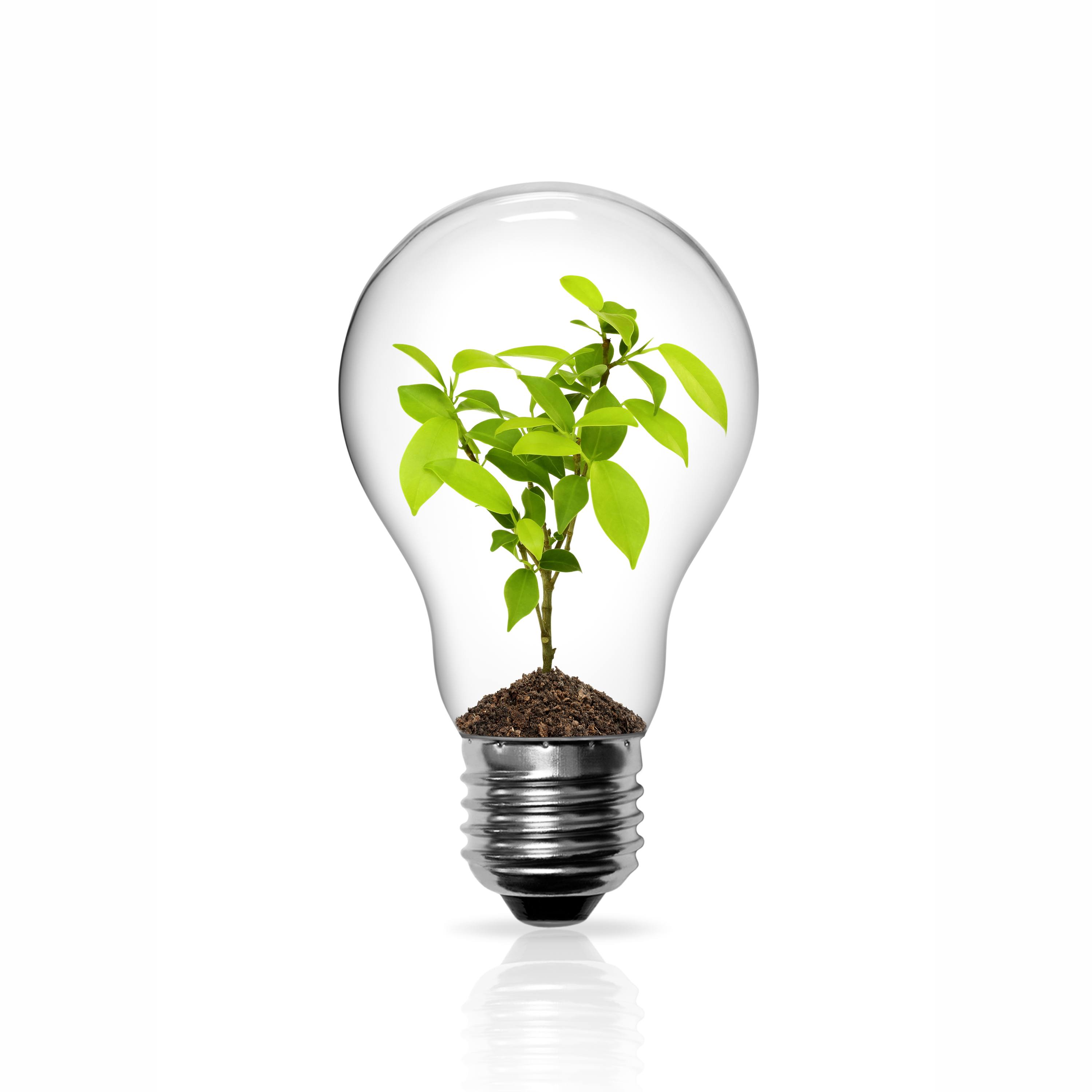 Preserving our natural resources and environment are important at From The Forest. The raw materials used for the flooring products are sourced only from managed forests in the United States and our wear resistant, ceramic top coats, and stains are water-based (zero VOC) and UV cured to protect air quality and our adhesives meet the highest standards for air emissions. Our lumber is purchased from suppliers within 500 miles of our factory that have active reforestation programs and share our environmental responsibility. Only a portion of mature trees are cut, leaving other mature trees for seeding purposes, and smaller trees for future logging. We are committed to sustainable forest management and we encourage the use of wood as an environmentally acceptable and renewable material. We have not and will not purchase lumber from any supplier involved in improper practices.
100% of raw materials are sourced only from sawmills with strict chain of custody standards in place for all raw materials

All raw materials are sourced within 500 miles of our factory

Formaldehyde free adhesives used in the construction of the flooring - 100% CARB Compliance with Zero VOC's

All topcoats are WearMax DWR and protect air quality

All products are GREENGUARD certified
Why Wood & Why Engineered?
Nothing beats the beauty of real wood– Real wood products portray a sense of elegance and class that does not go unnoticed. Imitation products will never be able to compare.
Every plank is unique -  Wood is a product of nature, and because of this, it allows for a new unique characteristic on every plank. The unique nature of wood is what makes it so sophisticated.
Environment – Wood products are renewable and substantially better for the environment over all other materials that are used to imitate the look of wood.
Safety –Scientific Research has shown that Luxury Vinyl Tile (LVT) products have cytotoxicity/allergenicity components and are combustible. Cytotoxicity/ allergenicity components can create health issues and cause damage to living tissue in humans and pets through exposure. Combustible building products may release smoke, toxic gasses and other chemical compounds when exposed to elevated temperatures. This may have a hazardous impact on building occupants, neighborhoods, first responders and the environment. Wood products are natural and do not have any of these risk factors associated.
Durability – Constructed to have enhanced stability and more resistance to daily wear, tear and buckling and offers an extremely durable coating capable of withstanding treatment.
Resistance - Dimensionally very stable preventing the wood from expanding and contracting during fluctuations of humidity and temperature.
Radiant Heat Compatibility -  Majority of engineered hardwood offerings can be installed over radiant heat.
Installation Capability -  Can be installed on all grade levels in a variety of different ways including nailing, gluing, floating and stapling. Many handy homeowners could even do it themselves!
Made in the USA - Weston, Wisconsin is in the middle of the North American hardwood supply, reducing the environmental footprint as well as inventory and transportation costs. All raw materials are sourced within 500 miles of our factory.
Environmentally Focused – Strict chain of custody standards are followed. CARB compliant with zero VOC's.
Best Top Coat in the Industry – WearMax DWR is used on all of our products and is the most water repellent as well as scratch, scuff and wear resistant finish in the industry.
Service - Midwest values with an experienced team of customer service and product engineers that will design and make wood flooring that looks great and performs exceptionally.
Value Priced Products - Due to efficient raw material sourcing from North American forests and innovative manufacturing processes.
Flexible Manufacturing and Creative Product Solutions - Allows customers many product features to choose from so they can customize and offer unique solutions.
More about From The Forest
Located in Central Wisconsin, From The Forest is proud to be an innovative, American Engineered Hardwood manufacturing company that sources all its material from North America sense 2007. Overcoming much adversity, From The Forest has thrived, solidifying the company's decision to keep the business in North America. Founded by industry veteran Tryggvi Magnusson, leads his team to understand the responsibility of producing high performing, beautiful flooring products at a competitive price. With over 100 Years of combined wood flooring manufacturing experience, our customers benefit from this by knowing the products are designed for stability and long-term wear.
The ONLY approved method for cleaning your From The Forest hardwood is to use our From The Forest Hardwood cleaner or just a damp mop and water. It is important to make sure the moisture content is a limited amount so that it will evaporate almost immediately. Standing water and hardwood floors do not mix!
If a scratch should occur, we recommend using WearMax Scratch Concealer. WearMax Scratch Concealer can be used on any flooring with a ceramic based finish, along with wood touch up markers.
---
TONGUE AND GROOVE DO IT YOURSELF INSTALLATION
Installs on all grade levels (basement approved)

Installation Methods: glue, float, nail or staple

Hickory: NOT approved for installation over hydronic radiant heat
---
---
The nail pocket allows space for a staple or nail to be used without interfering with the way each plank interlocks with each other.

Our innovative adhesive pockets allow more glue to be applied between the tongue and groove which creates a stronger bond to the planks and to the sub floor.

Do it yourself! Follow written installation instructions and contact us if you have any questions.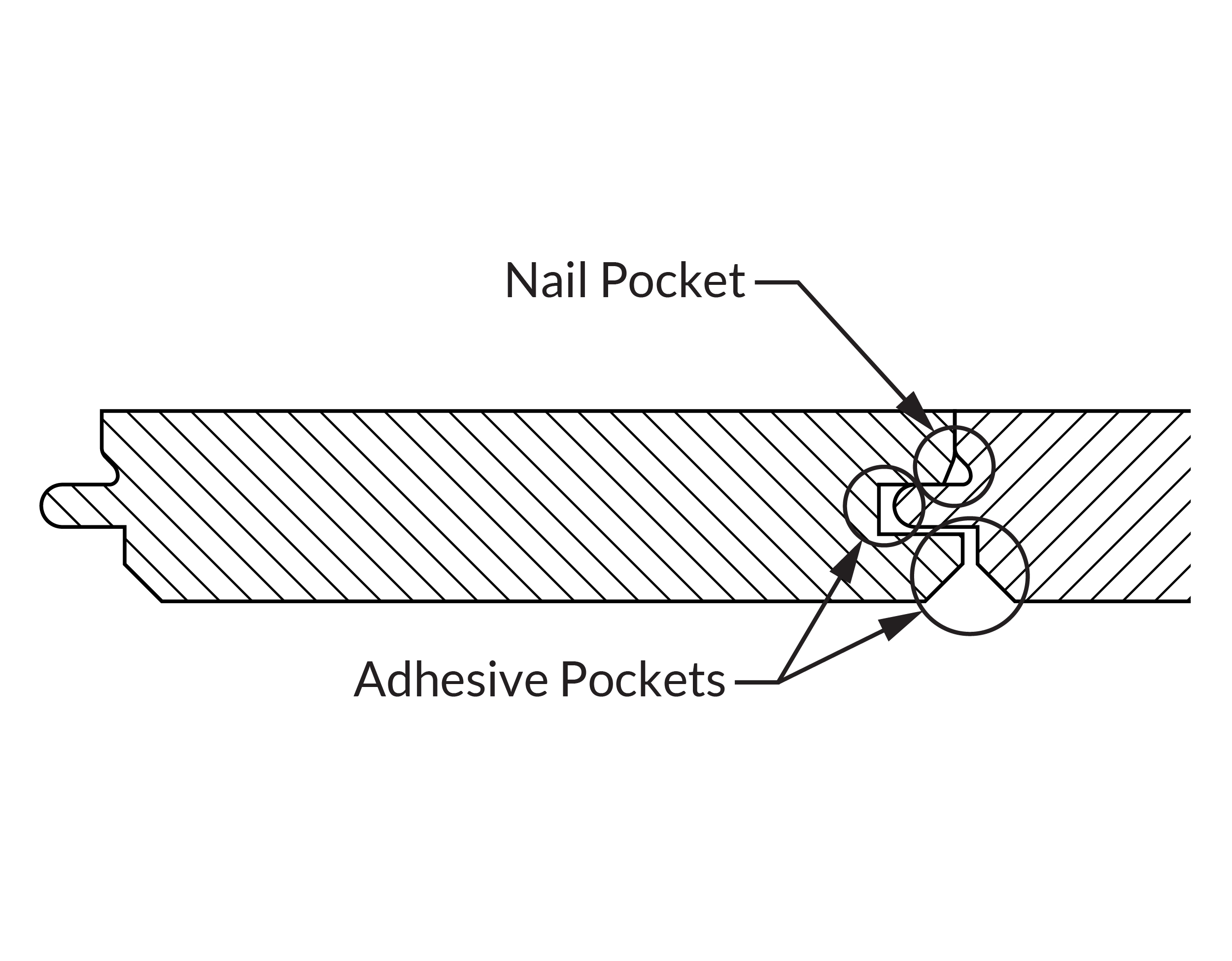 MORE PLYWOOD CORE COLLECTIONS